Welcome to BillingOnline –
Your Trusted Source in Smart Metering Solutions
Based in Centurion, Pretoria, BillingOnline provides effective automated metering services
and energy management analysis to residential and commercial clients.
Automated Metering Services and Energy Management Analysis
We offer innovative and user-friendly metering solutions with an emphasis on expert support. Our aim is to assist you with all of your metering requirements, from utility bill tracking and real-time metering to data analysis for energy sustainability and management purposes.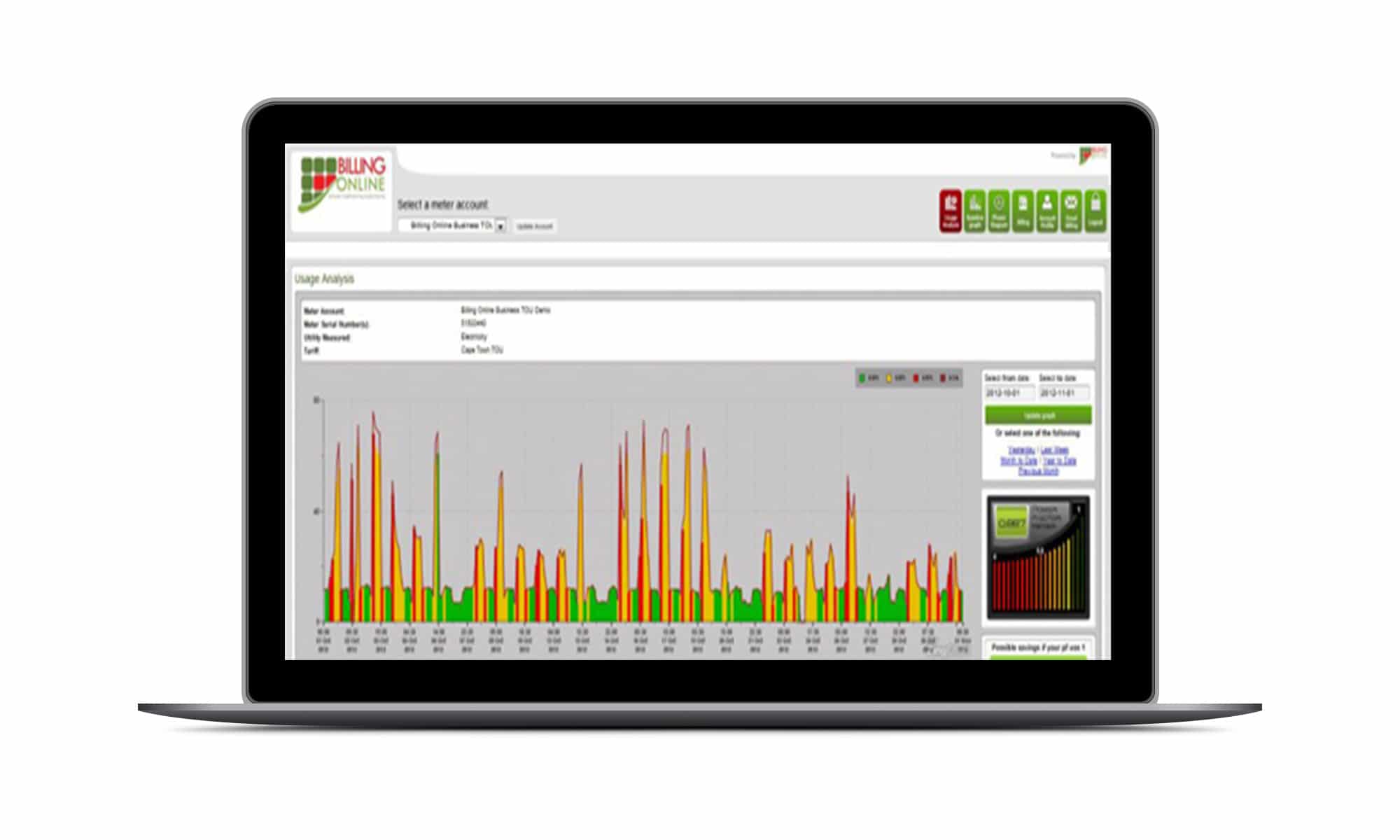 Why Choose BillingOnline?
We offer a comprehensive range of services with the following benefits:
Monitoring of electricity, water and gas


Complete turnkey solutions
Competitive monthly monitoring fees

Capable of supporting all major brands, e.g. EDMI, Elster, Landis & Gyr, Iskra, Hexing Wavenis and more
Meter installations:
Single Phase Installations
Three Phase Installations
Pre-paid Installations
High Voltage Installations
Development
AMR (Automated Meter Reading) Software Development
AMR Modems
AMR Communication Modules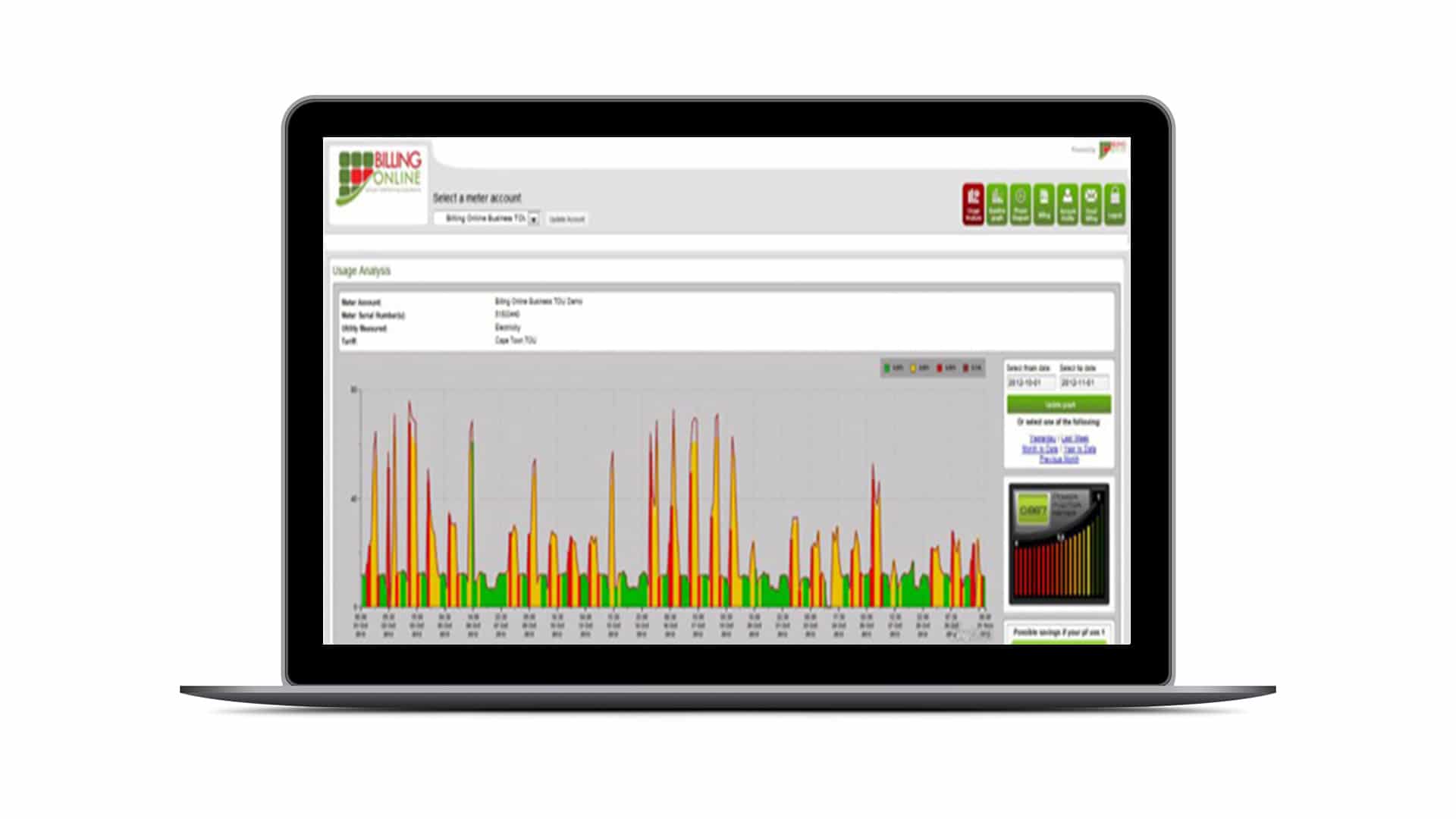 Profile Graph
The AMR system gives the customer a simple clean interface in order to interact with Profile Graph
Energy and demand used every half hour becomes visible to the customer in a simple, colourful and powerful TOU sensitive graphic display
Water usage graphs are also supported
Phasor Diagrams
Indicates statistics about each phase
Normal businesses have three-phase power, while the majority of household has single phase electricity connections
Indicates the Voltage (V), Amperage (A) and the KWH going through each phase at any given time
Enables BillingOnline to determine and advise the user on whether or not phases are "balanced"
BillingOnline may advise on lowering of energy consumption
Bill Generation
Ability to generate accurate bills at any given day and time
Enables the user to accurately determine what he/she has used for a specific period
Enables the user to cross reference landlords, council or the meter reading company charges
Ability to custom pick the billing dates for an extremely accurate cross reference
The system will also keep all the data since the meter was installed, which means that historical bills will always be available for future reference
The system will automatically update every year when the increase is approved and legislated, in order to ensure that the BillingOnline bills at the new legislative tariffs
Summated accounts can also be generated for multiple meters
It is possible to group facilities by region or building types and compare their energy usage, enabling customers to understand and interpret energy usage across multiple locations while still having the ability to analyse their own individual meters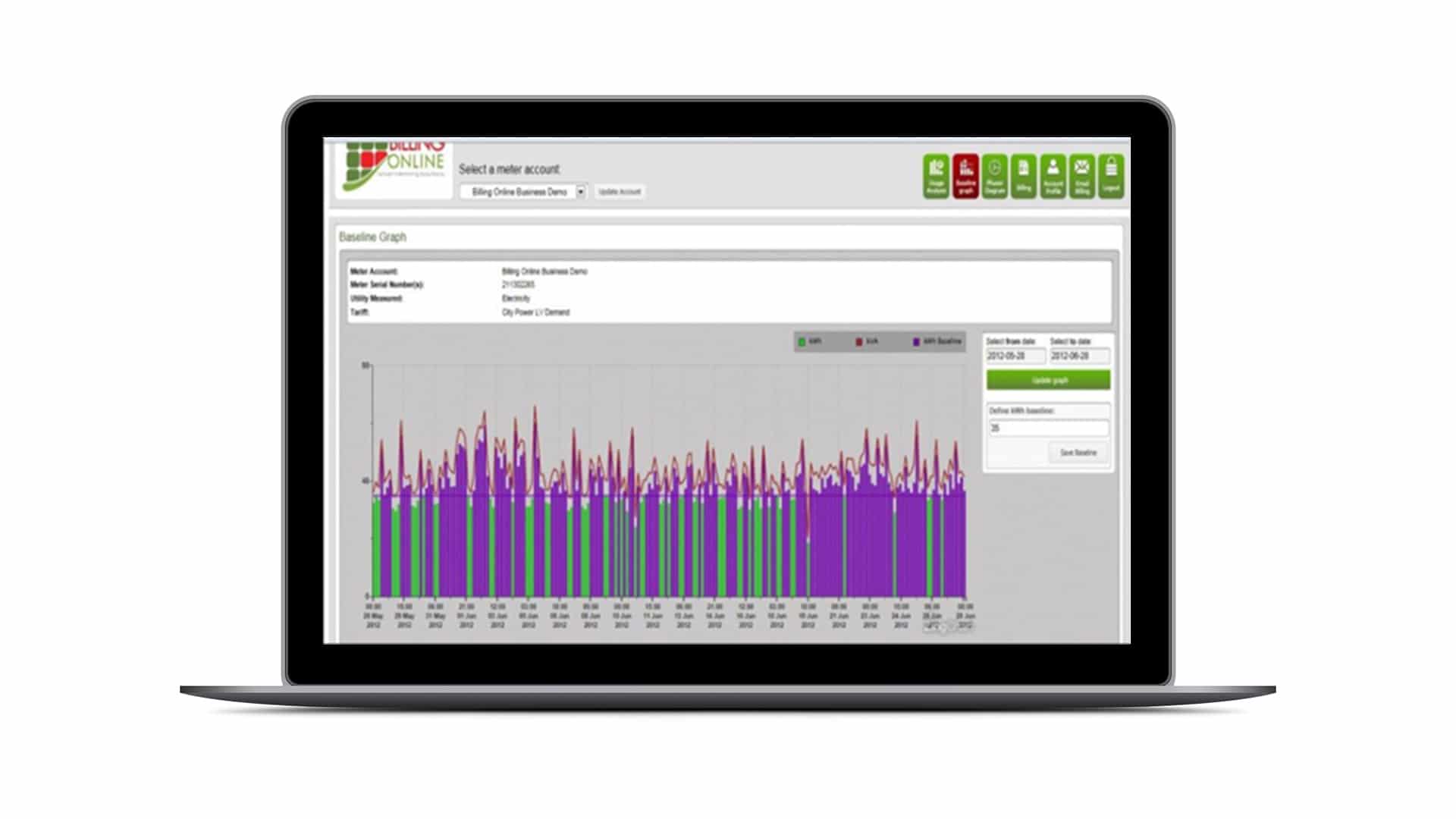 Energy Baseline Graphs
The BillingOnline system also includes tools which enable a customer to monitor their progress in their energy savings projects. This is done using a graphical illustration of the set target baseline value against the actual usage in half hourly profiles.
Power Factor Meter
The BillingOnline system calculates the possible monthly savings that can be achieved by improving your power factor. It also calculates the size of capacitance (kVAr) unit that would be needed to correct your power factor.
About us
BillingOnline has, since its establishment in 2009, focused its business on energy management solutions. These include, but are not limited to, the supply and installation of Smart meters, and the manufacturing of communication devices, as well as AMR software hosting services on our dedicated servers.
Our Energy Audit department will also perform energy audits, after which BillingOnline would be able to advise our clients on potential energy saving initiatives like Power Factor Correction and LED lighting.
Our expertise and knowledge comes from years of experience in the AMR and Energy Management fields. This enables us to provide our customers with the best service and latest technologies.
Physical Address:
Centurion, Pretoria
Postal Address:
Postnet Suite 197
Private Bag 132
Centurion
0046
BillingOnline
16 Venturi Crescent
Hennopspark
Centurion
0157